Click on the symbols to get more information about the GR20 stages in Corsica.
Go back to parent page for our summary.
Report of our GR20 stages, July 2017
1. Calenzana to Refuge d´ Ortu di Piobbu, 10km
2. Refuge d´ Ortu di Piobbu to Refuge de Carozzu, 8km
3. Refuge de Carozzu to Haut Asco, 7km
4. Haut Asco to Refuge de Tighiettu, 8km
5. Refuge de Tighiettu to Castel de Vergio, 12km
6. Castel de Vergio to Refuge de Manganu, 18km
7. Refuge de Manganu (via Refuge de Petra Piana) to Refuge de L 'Onda, 18km
8. Refuge de L' Onda to Vizzavona, 10km
9. Vizzavona to Refuge de Capannelle, 15km
10. Refuge de Capannelle to Refuge de Prati, 8km
16. Refuge de Prati (via Refuge d´ Usciolu) to Refuge A Matalza, 23km
12. Refuge A Matalza (via Refugee d´ Asinao) to Village de Bavella (Auberge du Col de Bavella), 20km
13. Village de Bavella (via Refuge de Paliri) to Conca, 15km
Read our story of the GR20 stages!
1: Calenzana to Refuge d'Ortu di Piobbu.
We drove by taxi (30 EUR) from Calvi airport north of Corsica to Calenzana. In this small town we took a room in the hotel "Bel Horizon". At 5am we left the hotel highly motivated in a good mood towards the mountains of the GR20. At the beginning of the GR20 stages our backpacks weighed at the time 16 kg. We quickly realized that we were not the only ones. Seeing the other hikers with the same goal became routine every morning. It seemed to us like a small race, who is first at the next Refuge.
red & white markings

The red and white markings serve as a waymark. They are regularly painted on the rocks or on trees. After seven hours of walking, 1300 vertical meters and 10 km of track, we reached the Refuge d'Ortu di Piobbu at 1 pm. The sunny day has left its first traces. It was a relaxing afternoon, the food for about 20 EUR was ordered and the tent set up. After a convivial evening we went to the tent early, because the next day should be a bit more demanding.
2: Refuge d'Ortu di Piobbu to Refuge de Carozzu.
Get-up time was 5:23 am. Destination was the hut Carozzu, which we reached around 2 pm. Some sections were a bit tricky. Nasty scree sections and the everlasting descent to the end was tedious. For the last hour we had the hut in mind and that helped. Hard to imagine if it had rained a lot. Then some passages are certainly very slippery and dangerous. Sometimes the trail was not easy to find, so be careful in fog or bad visibility.
The dinner was like yesterday for 20 EUR to get. There were lentils with noodles. In the evening light drizzle for a few minutes. The tents are not far away from the hut. Since there were free-running horses, be careful with food. We ended with playing cards. For the daily supply of water, it is advisable to refill some foldable water bags in the morning. 2-3 liters are advisable per person. Make sure you drink enough along the GR20 stages!
3: Refuge de Carozzu to Haut Asco.
It actually rained during the night, but in the early morning at 5 am everything was dry again. Right at the beginning we went over a gorge. Luckely the river "Spasimata" could be crossed over a suspension bridge. Climbing and again some tricky sections required some experience and body control. Our walking poles were always a great help. We always share a pair to cut the weight..
Hiking buddies

Two boys have accompanied us for some time, including nice conversation. Andreas and Michi should meet us again and again, it was a good get-to-know. We cooked ourselves the dinner, therefore you could buy ingredients in the small shop near the ski resort. We simply used the showers of the Haut Asco. Our physical condition were immaculate. We also saw many hikers with huge big blisters on their feet or other injuries. This place is a good place to make contact with the outside world or stop the tour of the gr20 if there are good reasons to do so. We stayed on course and were in a good mood.
4: Haut Asco to Refuge de Tighiettu.
After a windy night we set off in the dark without breakfast. With a headlamp dismantled the tent and packed backpacks. Our destination for the day was Monte Cinto. One of the most spectecular GR20 stages! The sight of the weather at dawn was awe-inspiring. The ascent was exhausting with some climbs fortunately without rain. After 3.5 hours we were up and had the first contact with snowfields. At Bocca Minuta (2218 m) we should experience the power of wind! With over 100 km we suddenly became aware of the enormous power of the mountains. Hardly the rigde was reached we became extremely cold and the first lightning flashed over us! A queasy feeling spread, we put on extra clothes and continued on the GR 20 without a break.
The Refuge de Tighiettu was reached already at 11:30 am. This stilt house is very impressive in the scenery of the Corsican mountains. We enjoyed a hot coffee and spent many hours in the cabin. After the traditional dinner, we experienced a stormy night.
5: Refuge de Tighiettu to Castel de Vergio.
Some of the hikers had to leave their tent because the storm destroyed it or it wasn´t waterproof anymore. Fitting for getting up, the rain has subsided and by 8 am we enjoyed our Café au Lait and a cheese omelet in the nearby Bergerie. A good start in the day. This section of the GR 20 brought a landscape change. We went through sunlit pine forests now. In this way Claudia has lost her sunglasses. It was later followed by a treeless valley with beautiful swimming spots, wonderful!
The river "Golo" accompanied us the further way. A lingering endless march through dense pine forests finally led us to the "Castel de Vergio". There are good shopping opportunities and it was followed by an extensive evening meal. Michi and Andreas joined us again and we played until late in the evening. There are many wild boar in this area.
6: Castel de Vergio to Refuge de Manganu.
Stefan wasn´t in a good mood this morning, somehow an upset stomach. Two hours later his mood improved again. Today we saw the lake "Lac de Nino", on the shore some cows grazed and riders rode on their horses. Pretty Bergeries invited for coffee. The hike through this landscape was beautiful and relaxing. After crossing the plain we were surprised by a "magic forest". Gnarled old trees lined our way and made us dream.
At 3:30 pm we arrived satisfied the "Refuge de Manganu". Hiking over the boggy meadows was a blessing! The host was super nice and the red wine good. On this day our good mood tipped over for a brief moment, because agreements were misunderstood. Later in the evening we could fix everything. One of our good qualities, indispensable for such a tour as the legendary GR 20. Before you implement such a project with someone else you should get along well or the relationship will be over!
7: Refuge de Manganu (via Refuge de Petra Piana) to Refuge de L 'Onda.
We started the new day at 5:20 am. Resume of the rainy night: Our tent is still dry. The rain has given way to a cloudless sky. Over scree and massive boulders we reached after a steep ascent the glacier lake in 2200 m height. When we went over peaty meadows with stones, Stefan slipped! With luck, he has contracted only a small bloody wound and bruises. Tea tree oil and sticking plaster helped us for the purpose. On this day, we also saw a rescue helicopter circling above us. Fortunately, only with the order to distribute flags for a mountain run.
Arrival at the hut "Petra Piana" at 1 pm. Sponat we decided to skip another stage and so we went after a small meal until the next hut "Refuge de L 'Onda". Completely exhausted we arrived there at 5:15 pm. An eventful day on the GR20!
8: Refuge de L'Onda to Vizzavona.
This is the last stage of the northern route. How could it be otherwise, in this night the wind blew neatly the same. We took it very easy, uphill in the clear blue sky. Then came the merciless descent and we had to go down to the valley and that was 1200 m descent. It pulled and pulled! Our pain ended with a milk cafe at the "Cascade des Anglais". A tourist destination that is often used for a day trip. There is also a kiosk. We followed a leisurely walk to Vizzavona. This mountain village used to be a summer home for the rich. Today, only dilapidated villas testify to this. Vizzavona has a good campground. There are hot showers and we were able to do our laundry! With a 3-course menu, we rewarded our half-time on this long-distance trail. Tomorrow we start the southern half!
End of the GR20 North Section and start of the GR20 South Section
9: Vizzavona to Refuge de Capannelle.
The campsite in Vizzavona was great! Our day started with a relaxed breakfast. This stage was again like going on clouds through beautiful forests and blue sky. The slight increase was not tragic for our claimed knees. We took our time, a way to linger. After 15 km we reached "Refuge de Capannelle", a winter sports resort. Funny and depressing to watch the snow-free slopes. We agreed on a good place for the tent, as often after democratic principles. After the deserved cold shower we ordered dinner for 16 EUR. There was Corsican soup, polenta and goulash. Our plan for the next days: we want to put together two stages again. A tip: draft chestnut beer.
10: Refuge de Capannelle to Refuge de Prati.
We did not set an alarm clock this time and slept until 6:30 am. The weather was great again and the day trip was promising. The magnificent pine forests with their ancient and mighty black pines. We liked a lote the beguiling scent of the woods and often stopped to enjoy the view. At half-time of that day we had a break at the Bergerie "Castta a Glualgone" on a plateau. The southern trail is a bit more moderate, there are not so many alpinists on the way. We now often meet families with children. In the evening it was cold at the "Refuge de Prati" and we made ourselves a can of ravioli. After we wrote again in our diary we went to bed in our tent.
11: Refuge de Prati to Refuge A Matalza.
The host of the "Refuge de Prati" did not leave a good impression at that time. Our homemade breakfast has brought us well into the day. Our cerealstats good and brings us strength. This section was again somewhat alpine, hardly any water and many meters in altitude. So we reached the hut "Refuge d`Usciolu" at noon. There was a small sweet shop where we got a coffee and cake. Again a station where we decided to go one stage further. So we entered later a beautiful river valley, which accompanied us to Matalza. The "Refuge A Matalza" is a privately owned hut. Relatively unknown, the owner was very nice and personal. There was a possibility to take a warm shower. The evening was marked by the roar of bulls. Nevertheless, we slept well.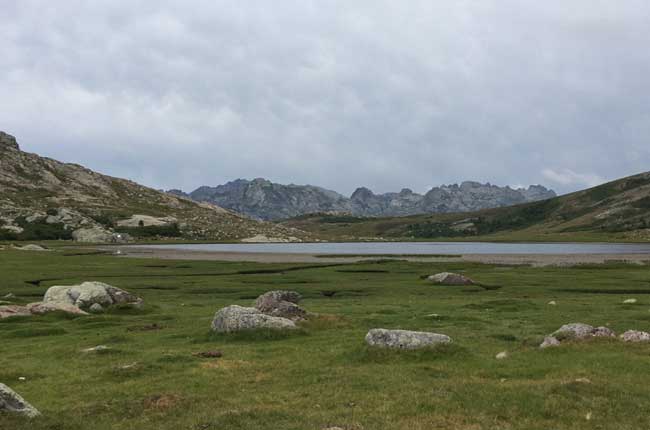 12: Refuge A Matalza to Bavella Village (Auberge du Col de Bavella).
The beginning of the path was unspectacular because we walked through withered juniper bushes forever. It was already very warm in the morning, the valley ascent steadily and no shadows in sight. After an hour we reached "Monte Incudine" with 2134 m, the highest mountain on the south route. The view was terrific. The sight of the "Refuge Asiano" with its makeshift tents wasn´t inviting. In this general situation and the day time we have decided to continue hiking. Knowing that we could not reach the "Refuge de Palini". Our destination was the village De Bavella. After 11 hours on the trail we were looking forward to a little luxury in the "Auberge du Col de Bavella". The room was fully booked so the air was not that good during the night. No matter we could sleep.
13: Village de Bavella to Conca.
The final! Our last day on the GR 20 in Corsica. Our first French breakfast brought us into the day. We woke up early and drank coffee on the porch for the first hour. Highly motivated we started. The destination was Conca in southern Corsica. Two hours later we reached the "Refuge de'Paliri". Despite his work, the young hutkeeper found time to serve us a last coffee in the mountains. At the in-house source we filled up the water supplies again. 5 hours separated us now from the goal. It was getting hotter and more oppressive. We were happy to have enough water with us. After all, it was already over 30 degrees at 10:30 am. Looking back, this last stretch dragged on forever. We enjoyed a last bath in the river. Our mood was just great! The ringing of the church clock in Conca at 5 pm greeted us. We made it!
For more information about the awesome hiking trip GR20 Corsica don´t hesitate to contact us. Feel free to watch our videos on YouTube and explore our other trails we´ve experienced for you!
Take care and go out and make it happen!