Everything about hiking routes for beginners, hiking equipment and boots
Are you ready for the big adventure and wondering if long-distance hiking is possible for beginners? A multi-day hike in the low mountain range or the long-awaited hut tour in the Alps?
Unfortunately, you are only missing a few tips and information on how to implement your long-distance hike? How do I plan my first long tour? As a beginner, can I manage a multi-day hike? What hiking equipment do I really need? As a beginner, do I want to go on a tour alone or with hiking partners?
We'll show you 10 things a beginner should and shouldn't do. In our blog you can find out everything about useful hiking equipment, hiking boots, socks and possible tours. The focus is also on your personal condition and behavior in nature.
Possible tours for beginners to hike
Information resources
There are easy ways to find a trail that suits your needs. Hiking blogs and travel guides are great resources as they contain a lot of details that should interest you: distance, difficulty, elevation gain, directions. You can find extensive information on websites such as outdooractive or komoot. Under >hiking trails we also describe some long-distance hiking trails that are also suitable for beginners.
If you have friends who enjoy hiking, ask them to suggest some hiking routes. Talk to locals. Contact a local hiking organization or find out more at a national park centre.
With and without a tent
Basically you ask yourself whether sleeping in a tent is an option. Based on this, your planning will take a completely different course. The advantage of having a tent is obvious – independence. You also have a certain privacy with the tent. If you have spent many days and nights in dorm rooms, you will know what we are talking about. The disadvantage is quickly found – more weight. Furthermore, there is the consideration to have your luggage transported. We at Hiking Experience love long-distance hiking with a backpack and tent.
Selection criteria for your hiking tour
The right choice of a hiking tour should be guided by a few questions.
How is my physical and mental fitness?
What hiking experience do I have?
In which terrain will I be traveling?
What distance do I want and can I cover?
You can find answers to these questions here >hiking>hiking-routes-for-beginners
Hiking Gear
The fine art of long-distance hiking is reducing luggage and thus weight. This challenge puts the beginner to the test when hiking. For beginners, a backpack should not weigh more than 15kg for a tour of 3-5 days. We're not talking about a winter hike here. The heavier your luggage, the more energy you use. This leads to faster exhaustion. The further you want to hike, the more material you will need. One of the biggest challenges is carrying the food. For a 300-kilometer long-distance hiking trail, 5-6 kg of provisions per person can be added. In addition, depending on the region, there is drinking water. 2-3 liters are a minimum here.
One of the wonderful things about hiking is that you don't need high-tech gear. With a few essential items for the trail and a sense of adventure, you're ready to go.
It is mainly about the important 4 essentials.
backpack
sleeping bag
walking boots
tent
A combination of equipment and clothing that all long-distance hikers should have with them. You can find detailed information about hiking equipment here >hiking>gear
Behavior in nature and in emergencies
Hiking etiquette
For everyone out there, it is valuable to understand some basic hiking behaviors. Following these rules along the way can help everyone get along:
Hikers vs Hikers: Hikers going uphill have right of way. This rule is of particular importance when hiking in the mountains.
Hiker vs Bicycle: Mountain bikers are generally expected to give in to hikers. Since mountain bikers tend to move faster than hikers, it can be easier for hikers to step aside and give way.
Hikers vs horses: horses get right of way. If you share the path with horsemen, avoid them. Please do not make any abrupt movements either.
Do not leave any traces: respect your environment, nature. Do not leave any trash, do not remove plants and animals.
Emergency
On our hikes we unfortunately experienced some emergency situations with other hikers. Fortunately, it is often the smaller things that force the hiker to pause. Blisters on the feet, nausea due to the altitude difference, minor cuts, sprains and exhaustion.
But what should I do in an emergency situation? Every driver has taken a first aid course, but forgot most of it, right ?!
First aid kit
A first aid kit should not be missing on a hike. The following applies here: Check for completeness. Have emergency numbers ready. In European countries, 112 applies everywhere. When traveling to other countries, have the appropriate numbers ready.
Keep calm, treat the injury and get help if possible. If necessary, leave the wounded person with food and water in a tent on the side of the road to get help. If you can't make decisions, you'd better not start.
As a preventive measure, you should familiarize yourself with the local conditions. Prepare yourself for local sources of danger, such as mosquitoes, slippery ice or drought in the mountains. Find out more on hiking blogs.
10 Hiking mistakes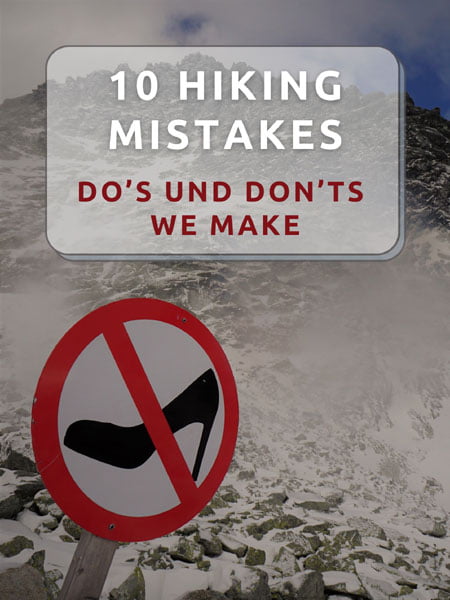 We made many mistakes during our many hikes. Especially in the early days. Experience is the best teacher.
You should therefore avoid the following 10 mistakes when hiking.
Overconfidence
Too much luggage
Bad shoes
Cotton socks
Lack of water
Bad preparation!
Without walking sticks in the mountains
No first aid kit
Wrong equipment
Underestimate the cold